February 2019

February arrives as the shortest month of the year and after this past January, which seemed like the longest, I'm ready. January was really cold, with a sufficient amount of snow, making it easy to look outside and see that it is winter. It always amazes me that all the snow will melt come spring. Snow pack is 3-5 feet in places and I'm sure we will get more.
MQX and VQF entry, ORDER IN CHAOS, have been processed for April and June shows. Still waiting for our quilt CERTIFIABLE to get back from it's trip to California, it did not win a ribbon but I heard lots of nice comments from people who saw it hanging there.


I am almost finished with my latest quilt top. You may remember it started as a mini and has grown up to be a king. I have over 200 hours in it now. I started it just before Christmas ~ should be done in a day or two. As is usually the case in a top I design as I make it, there are parts that I wish I had made differently, but it is what it is. It's not being altered now. Thinking that at this point in time Carol is stumped regarding what will be quilted on it. As in all things, time will tell. I haven't decided what will be started next, something new or a repeat. As I just said, time will tell.
No shadow was seen by the rodent so they say that Spring is only 6 weeks away. That translates into 8 - 10 weeks up here, but I have faith it will get here. I miss my greenhouse and getting started on summer plants, in the past I would have tomato plants well on the way by now. Sigh, life goes on.
So, I will spend the rest of February in hibernation, except for my daily 5 mile walks and periodic bouts of snow relocation. Much of that time will be spent sewing. We are still waiting for the new attachment for Carol's longarm. When it arrives and we learn how to use it I will possibly be using it as well. Repeated again, time will tell. Carol seems to have become good friends with the Innova and is working on a large wall hanging, an older creation of mine. There are plenty of tops in the closet and in multiple drawers to keep the Innova
busy.



Sew, stay warm and have fun.
Dan
dan@threadsgalore.com

---
January 2019

2019 ~ the beginning of a new year always makes me reflect back on the previous year to see what if anything I accomplished. I have a hard time remembering what happened during 2018, it went by so fast. CERTIFIABLE was what we called our quilt that went through the cycle of the three quilt shows we usually enter. It did well, with 2 blue and one red ribbon. It is in California now for the Road to California Quilt Show the end of the month in Ontario, CA. Time will tell whether it is liked on the other side of the country.
Managed to get 10 quilts (plus the one I am working on now ) completed. Carol has quilted several and is in the process of working on one now. All were original designs except for one of Michelle Hiatt's called Bloom. I made both the throw size in the pattern as well as a mini of the same pattern. I then pieced a small and large version of what we are calling Chasing Memories. It uses a block from our Chasing Points pattern and another from our Memory Lane pattern. I combined them to get Chasing Memories. Made these out of nice and bright Allison Glass fabrics. Thinking out of the box playing on the computer next I came up with something I called Number 9. It is a more modern design and very different from my normal traditional repeated blocks type of quilt. During our Last Spring Quilt Camp I made a mini of our pattern Chasing Points, not my best mini and was certainly a challenge.


At this point I decided that the quilt studio needed some straightening, some clean up time was definitely needed. It was during this process I decided that while accumulating lots of small pieces was "OK" in a OCD kind of way, I needed to find something to actually do with them. I started using the 2" cut squares to make 4 1/2" finished nine patch units. I made several hundred of them. Then realized that to actually get rid of the fabric scraps I still needed to use the nine patch blocks and tie them together somehow into a quilt. My first attempt was to leave them as the nine patch blocks and add a double sashing with four patch corner stones. By the time the quilt had grown to a queen I still had a lot of nine patch blocks left. So I started again to think about what to do to get rid of the rest. For this attempt I decided to shatter or make the nine patch disappear by cutting them horizontally and vertically. I then added sashing strips and four patch corner stones and grew it to another queen. This one is named ORDER IN CHAOS. Carol has this one on the frame as I write this. That got me out of scrappy thinking and I moved on.



The next quilt grew from an evening playing on Electric Quilt 8. Very different from my usual. It actually started as a prank where I thought it would be cool to make a mini quilt and place it on the baby Jesus in the manger I walked by everyday. He looked cold. However, taking a different path on my walk revealed another manger scene and decided that to be fair I would need to make more than one. After realizing that it took about 14 hours to piece one, and who knows what the reaction would be, decided to abandon that idea. So I took the mini I had completed and started growing it into a larger quilt. Am still growing this one, and will be working on it for a while longer.
The point is there are a lot of cool quilt ideas out there. Many of these ideas, others have written down into their patterns. I prefer to look within and see what comes out of my head. I suppose some appeal only to me, others are liked by many. The process is the same, it gets the quilt out of my head so that I can move on.

So find a pattern or something out of your head and see what you can create in 2019. Remember there are few hard and fast rules in quilting. Trust me, if there were I would probably find another creative outlet. So have fun and get a project growing. Enjoy!

dan@threadsgalore.com

---
December 2018
December, don't tell me 2018 is almost over. I think I say this every year as I get older ~ I have no idea where this year went. We celebrated our last Quilt Camp along with other lasts. The greenhouse that started these ramblings is long gone and more of the flower gardens have become lawns. Unfortunately, the house has not sold so we have not been able to move on to whatever is next.

November brought several wet heavy snowstorms. If we only had our current amount of snow in mid-January I would think we were having a good snow year. I don't remember a season that had plenty of snow before snowmobiling season even started. Looks like it will be a long season. Hopefully, I will be able to keep up with my winter job as President in Charge of Snow Relocation and still get some quilting done.

The scrap quilt top that I was working on during Fall Quilt Camp is complete and I am well into the next top. Unfortunately, when you design on the fly, changes get made in the design. This time the changes resulted in a fair amount of un-sewing of blocks so I could reuse the units elsewhere. I am pleased with the changes, but at times am having difficulty wrapping my thick head around following the design.

| | | | |
| --- | --- | --- | --- |
| | | | |

Exciting news: our quilt CERTIFIABLE was juried into Road to California Quilt Show to be held in January. Kinda wish I was going to California with it. Maybe someday we will be able to travel to the more distant shows. Maybe someday.....(see paragraph 1)

Hopefully Carol will be working on a couple of show quilts before too long. It's a long process between coming up with the idea, piecing the top and then the quilting process. Entry deadlines approach. Time will tell which top will get done in time for the different deadlines.

Have a Happy and Safe Holiday Season, whatever your reason for the season. Enjoy family and friends and remember the season is about presence not presents.

Remember, if we all keep sewing we can piece something together.
Talk to you next year ~ Dan
dan@threadsgalore.com

---
November 2018

November arrives. Our final Quilt Camp is over. It was fun, now to move on to whatever is next. The end of October brought us snow and cold weather. The slushy snow that fell froze to concrete much like a mid-winter snow storm. Wait a minute ~ it's only October. A frantic effort was made to get most of the leaves raked up before the storm and I was fairly successful in doing so. I only hope that this is not a warning of what is to come. Oh well, it will be what it is. If snow falls I'll clean it up, if it doesn't, I'll sew. It could be worse.

Still working on a scrap quilt that I started a while back. FINDING ORDER IN CHAOS is it's working name. Still a long way to go on this one. The quilt is at the deceptive stage right now. While the bulk of the top is complete, an awful lot of connector blocks need to be assembled. I may be hallucinating, but I think I see a little space in some of the scrap bins. This will complete two big tops made entirely from the scrap bins.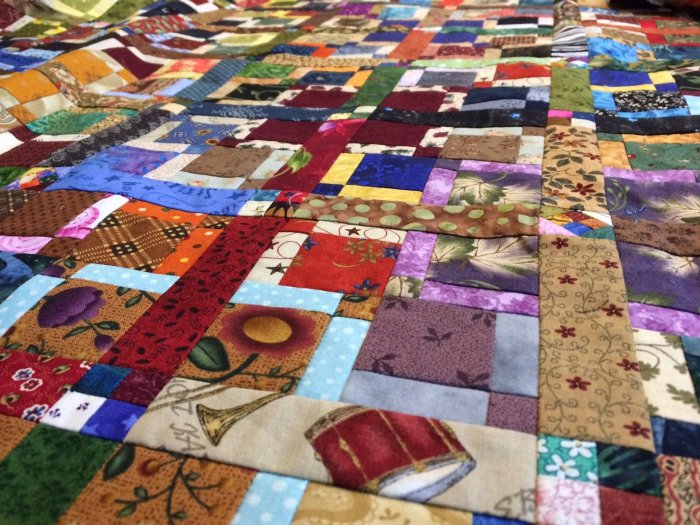 Have no idea what the next project will be but it quite probably will require yardage and not be made from scraps! Whatever you are working on, have fun. The next thing you know we will be talking Christmas. Hopefully, we get to enjoy some of November without freezing in the process.

Dan
dan@threadsgalore.com

---
October 2018

October, for a lot of years, has meant Fall Quilt Camp, this year is no exception. Our 18th and final Quilt Camp will be upon us very quickly. That's right, OUR final Quilt Camp. Camp has changed a lot over the years with a variety of instructors ~ each with their own perspective and way of quilting. None necessarily better than the rest, only different. Much like our quilts, all different ~ all starting the same by cutting fabric and sewing it back together with different results. Thus it will be with Fall Quilt Camp 2019, it will be different. That's right, this fall camp is the last that Carol and I will be hosting here in Rangeley. Going forward, any camps will be run by our good friend Michelle Renee Hiatt, the instructor we introduced to the Rangeley experience. Change happens, life goes on. Good luck Michelle!

Many things change as we develop and grow older. My life is evolving. I survived a season without a greenhouse. It wasn't the same, it was different. Not better, not worse, just different. As I get older the gardens became and are becoming more work than enjoyment. That means it is time for a change. That's right ~ more gardens are destined for lawns. Not the same, not better, not worse, just different. I have no idea what I will do in the time I would have spent gardening, but I do know it will be filled with something.....different.

The gardens have almost been put to bed for the season. There are more plants to be cut back as I decide what will be eliminated next. To date, I have not had a killing frost, but by now the plants are tired ~ they have accomplished what they were intended to do and they did it well. Time for the compost pile.

I am still working on scrap quilts. I finished one and am working on another ~ all fabric coming from the boxes and drawers that are full of scraps ready to be the pieces needed for the next project. The drawers contain many, many more quilts than these two. The fun part of these scrap quilts is that until I get started I don't really know what the pieces will form and what the quilt will look like. That is part of the process, part of what makes the process interesting. Part of what makes each quilt different and unique.

Enjoy your Fall, take the time to enjoy the change of the season because the next one will seem to go on forever! It's time for quilting.....


Dan
dan@threadsgalore.com

---
September 2018
September, oh CRAP, where did the summer go? It seems that I got so busy getting between events that I suddenly realized it's LABOR DAY! I guess that explains why the beans are about gone and the flowers are looking very tired and used up. That is also one of the reasons why I am looking froward to finding a buyer for this property so we can move on to a different daily routine. A paradigm shift. I know there has to be quilt in there, I'll just have to find it.

The deer were kept rom eating my lily so that I finally got to see it in it's glory. Seven blossoms. Unfortunately, the first was almost gone when the last finally opened. Still beautiful.



The quilt that I started working on while sewing with some friends and instructors is moving right along. It is using the nine-patch units that I talked about last month. Five rows left, no border, definitely scrappy.

More gardens are on the docket for removal, with them comes the need to get rid of the sculpture in the horney garden and my 20' copper flag pole. Anyone interested?


Dan
dan@threadsgalore.com

---
August 2018
August means that the summer is in full swing. This summer has been a hectic one for the Rangeley area. Area businesses are very busy and are beginning to look forward to having their quiet town return to its slower pace. My gardens are producing food for the table and meals consist of many vegetables. The flowers are doing great and so far I have been able to keep the deer from eating all the buds before the flowers arrive



The passing of July also signifies that the Maine Quilt show is over. Our quilt CERTIFIABLE was awarded a first place blue ribbon in the large pieced category. Many, many beautiful quilts were hanging there. Saw many familiar faces and if you stopped by the Sew on the Go booth to visit us and shop, we thank you.

As Carol discusses in her newsletter, please don't listen to rumors regarding our shop and homes here in Rangeley. Our house is for sale. We are not trying to sell Threads Galore Quilt Shop, just the house and property. The shop will remain open until we are sure the sale will truly happen and then it will be closed. In other words, WE ARE OPEN AS NORMAL until then. August hours are Tuesday thru Saturday, 10AM to 4PM. At this time, the rental house, or what we call Quilt Inn is not for sale. Hopefully, this will dispel a few of the rumors. Unfortunately, probably not, because the people spreading the rumors don't really care whether the information they spread is correct or not. More of what we are all exposed to today ~ fake news. Say anything with authority and it must be true.

I am currently working on cleaning up some 2" scraps and have been making them into nine-patch blocks. I don't have a solid plan for the blocks yet but so far I have over 300 of them. Time will tell, they will get used in a least one, probably several, quilts. They will be scrappy ~ that is all I really know at this time.



Enjoy your summer. Go swimming (I may even go), kayaking, hiking, camping or just sit on the porch and enjoy the weather! Time will fly by and we will soon be doing cold weather activities all over again. Find time to sew and at least get your project ideas ready for the months to come. Enjoy!

Dan
dan@threadsgalore.com

---
July 2018
The ending of June means that summer has arrived, at least according to the calendar. Very cool still most nights, but the days warm up pretty quickly. The arrival of July also means that Vermont Quilt Festival is over. I spent most of last weekend at the festival where our quilt CERTIFIABLE received a red ribbon for our efforts. Talked to a lot of quilting friends and acquaintances and, as usual, met some new ones. That's what I enjoy about quilting ~ for the most part quilters are friendly people, willing to share ideas and methods even with people they just met. Saw some beautiful quilts and received some much needed inspiration to get the ideas flowing again.

July also means that Maine Quilts will be happening soon. CERTIFIABLE will be hanging in the show. Stop in and see Carol and I, we will be in working in Michelle Hiatt's Sew On The Go booth (#5). Stop in and see what's new.



Most of the vegetable garden has been planted except for some later plantings of peas and carrots which will probably be planted as soon as I find the time. Even as dry as it has been, things seem to be growing OK. The containers and ground plantings around the entrance to the quilt shop are starting to fill out as well. Seemed odd to go buy all the plants this year instead of just pulling them out of the greenhouse but they are doing well and I must say I found something else to do when I would have been tending them all spring. Hopefully, they continue to grow and the deer stay out of them.

Enjoy your summer, find some time to quilt and enjoy the warmer weather, hopefully it finally arrives and hangs around for a while!

Dan
dan@threadsgalore.com

---
June 2018
June's arrival means that the full blown summer season is almost here. It also means that Vermont Quilt Festival is due to happen soon. I have mailed off our entry CERTIFIABLE, lets hope the judges are kind. This is the same quilt that MQX awarded a blue ribbon to. It will then head to Maine Quilts in Augusta so if you can't see it in Vermont come to Maine Quilts to see it there.

The area around the shop entrance has been planted along with the hanging baskets of geraniums on the porches. It sure seemed weird going to a nursery to buy the seedlings needed rather than just bringing them up from the greenhouse. Less work, less expensive, more variety possible but no where near as much fun. As I grow older I do like the less work and less expensive part and it is fun to go through all the greenhouses and come home with a truck full ready to transplant and a few hours later ~ all done ~ hopefully not to be utilized as deer food.

Carol has been pleased that I have not been sitting at my sewing machine of late. After completing the last top, I artistically hit the wall. Still thinking of creating something different but so far the imagination has only given me glimpses of what the quilt could look like. The frustrating part is that I have grown used to just drawing the design in EQ8. Unfortunately, I haven't mastered the section on placing multi-sized blocks into the same quilt. So to move onward with that quilt I would either need to learn that part of EQ8 or go back to graph paper. Or, I guess there is a third option ~ move on to something else. That is what I keep doing. Oh well, I guess that is why there is later ~ I'll create that quilt later.

End of my rambling for now so enjoy June, the month of new beginnings. Try to find some time to quilt around the gardening and the cook outs. 'Til next time....Dan
dan@threadsgalore.com

---
May 2018
May means Machine Quilter's Exposition (more often called MQX) is over. A lot of really beautiful quilts were displayed, I was only there for a short time but enjoyed viewing all the quilts. Our quilt, CERTIFIABLE, was proudly displayed with the blue ribbon that it was awarded. It's next show will be in June at Vermont Quilt Festival. Maybe I'll see you there.

Am currently working on quilt top #6 for 2018. This one is a little out of the box for me ~ my attempt at a more modern design. Don't know if I nailed that, but it is different and the layout is challenging to say the least. Fun to try something a little different every once and a while. Working up the courage for a project with Y seams, it hasn't come to the top of the list yet so for now keeping with Studio 180 shapes.



Spring Quilt Camp is this week, this year I have no official teaching duties as they have been transferred to Michelle. That said, the game plan is to find a project and sew along with everyone else and see what I can get done. I have yet to figure out what that project will be.

The snow is disappearing from the yards. The vegetable garden is empty of snow, but I'm sure it is quite muddy ~ think I'll wait a few days to find out. The day lilies are popping up out of the ground, unfortunately the deer are eating the new growth as fast as they appear. Probably for the best that I have resigned to the fact that the deer have taken over my yard and I have given up gardening to feed them.

I would have enjoyed working in the greenhouse these past few nights. The ice went out of my little pond down back and I could hear the "quacking" of the tree frogs as they begin their mating ritual and fill the pond with polliwogs ~ always liked hearing them as I was transplanting seedlings. The peepers will be next, Spring is slowly showing her face. ABOUT TIME!

So, if you are missing our Spring Quilt Camp, remember there is still time to get signed up for one of the few remaining spots in our final Fall Quilt Camp. Bittersweet that they will end, but it is time for changes so if you ever wanted to attend one.......last chance!!

Keep quilting, enjoy the emergence of the new green shoots celebrating the end of another winter. Enjoy.

Dan
dan@threadsgalore.com


April 2018
April arrives with us still having an overabundance of snow. Kind of glad we are not a Maine Shop Hop quilt shop this year. Rules state that if your business is for sale you can't participate. Oh well, we will be here and open much of the time, just not 7 days a week. (April hours are listed here) So stop in, if you are so inclined, on your way to or from the shop up the road a ways.

April also brings us to the season of Machine Quilter's Expo in Manchester, NH, April 11th ~ 14th. Always a great show. One of my new creations, expertly made better with Carol's quilting, will be on display at the show. I will be there most of Friday and Saturday, if you see me say HI! (just remember I'm terrible with names) Just finished another top, I think it's number 4 for 2018 but who's counting! Very pleased with how it came out. Now to see if I can make it again 1/2 scale.

As the snow disappears, there is an uncovering of the projects left from last fall. Though, I must say, no where near as many as there were in past years because of last year's clean up and purge of crap (technical term) of not needed items laying around. I do miss my greenhouse which I eliminated last summer ~ I miss my evenings playing in the dirt and transplanting seedlings. I thoroughly enjoyed it but it is time to move on. Has made for a lot more quilting time. Carol will probably have me put it back up to cut down on the quilt tops waiting in the closet.

Hopefully Spring is showing her face where you live ~ it will be here eventually. At least it always has. Enjoy the rest of the cold season and take time to experience the new growth the season change will bring. I love the changes as everything turns green changing from the dull winter colors and the now brown snow.

Enjoy, keep quilting and hope to see you soon. As always, comments, though seldom received, are always appreciated.
Dan
dan@threadsgalore.com

---
March 2018
March's arrival means that we have made it through the brunt of this years winter. Cold at times, snowy at times, wet and rainy at times ~ overall a normal Maine winter. February found me testing another of Michelle Hiatt's new patterns. I made the throw size then made it in the smallest size the tools allowed me ~ instead of 9" blocks I made it in 3" blocks. No harder and as usual, the smaller one took a little less time to piece. Think about it, every seam is pretty short with all the other processes about the same, I find making a smaller version of most quilts is quicker than the full size. I am between projects right now. I have one on the drawing board (actually in the computer) but haven't firmly decided on the colors.

Although slow to arrive in Rangeley, spring will get here before long. I am already missing my greenhouse. In the past I would normally have seeds started and well on the way by now. Even the last couple of years when I did not run it all winter I would be getting ready to fire it back up by now and get it going. Don't really know what we will have for flowers around the property this season, I'm sure I'll buy some. However, for me, the enjoyment came in the greenhouse part of the growing process. Change....not always liked but usually different. Probably why they call in change.

MQX is next month. Carol will be there a day and I will be there for one or so as well. The verdict is still out on whether we get our quilt completed to display there. Hope so, time will tell.

Enjoy the rest of this seasons cold time and hopefully where you live at least some of March will be spring-like. Keep quilting! Dan

dan@threadsgalore.com

---
February 2018
February, the shortest month of the year, or as I read in a comic strip ~ February is the shortest month so we can get to spring quicker. Let's hope so! Been cold, been snowy, basically been winter in Maine. Just came in from cleaning up another minor snow event. They are about as much work to clean up after as a decent snow storm. In some ways, maybe even more so, because it seems like such a waste of time.

Finished quite a quilt project recently (hopefully destined to be this years show quilt). Over 8900 pieces with 1284 of them 1" x 2" flying geese. My Wing Clipper got quite a workout that's for sure. Top's done, Carol's turn. I'm satisfied with my part. Anxious to see what Carol does. It will be on her new longarm that is scheduled to arrive next Monday. Hopefully, it's enough like her old one so they can become friends quickly.

Have another quilt underway already. It is a test run of Michelle Renee Hiatt's latest not yet released pattern, BLOOM. It's a fun project, only two tools required and is moving right along. Should be another good one.

No bites on the house/shop so everything is business as usual. A reminder though to check our webpage to be sure Carol and I did not have to go out of town at the same time. (which is why we are closed this Thursday, the 8th) Not everything can be scheduled for the first of the week.

So, enjoy February, it will be gone before you know it. Get some quilting done while we are all still in hibernation mode. As always, comments and questions are welcome to dan@threadsgalore.com

---

January 2018

January, usually our coldest month, will find it hard to compete with the sub-zero temperatures of the the end of December. Not supposed to warm up much as we roll into the new year so I guess I'll need to think warm thoughts.

January also brings us to the deadlines for sign up for our final Quilt Camps. It's looking like our camps will not go out with a bang, but more like a fizzle. I realize we are being more stringent this year about having the needed number of sign ups. We ran several over the years that were not profitable for us but we put the event on anyway. Running the event at a loss just doesn't work. While it makes for an intimate setting for the attendees, it makes absolutely no sense for us to do so as we are no longer interested in breaking even in hopes that next year will be better. So, Spring and Fall Quilt Camps 2018 are intended to be the end and in all honesty are looking like they will not happen. That's right, we have not met our minimum enrollees and with time running out it looks doubtful we will. It is not fair to our instructor Michelle or to those that have already enrolled to drag out the sign up period.

I have been continuing to work on my mini piecing, still haven't figured out how I am going to tie them all together and again, being honest, the scrap pile has not been reduced by a great amount. Seemed like a good idea, but mini's don't use a lot of fabric, therefore scraps go a loooonnng way. I have designed a new quilt top and am piecing a practice block to see how the piecing goes. Looking good so far, anxious to get on to a real project. The mini's project is still too vague in my mind and has no complete direction to go in, at least not enough to get me into overdrive mode.

Enjoy January, remember for the most part 2018 will be what you make it so have fun, keep quilting and hope for warmer weather.

dan@threadsgalore.com

---
December 2017

December is upon us. Even if it has not arrived where you live, winter is rapidly approaching. We have had a small taste here and as I look out my window sitting at my sewing machine the ground is white. I have begun the season of always being cold. Not my favorite time of year and to be honest one I was in hopes to be about over with. We have not had any takers on the sale of our two houses yet and are moving on to plan B of the process. We have decided to remove the rental house, or as we call it Quilt Inn, from the market for now. Although the intention is still to sell it as well as the house used as the Quilt Shop, the one we live in. The current emphasis will be on selling our house where the quilt shop is. This means rentals at Quilt Inn will continue for the foreseeable future. If the house sells there may be no quilt shop next door but all else could remain the same. NO, this does not mean we have closed the Quilt Shop. As before, we are fully operational until the property sells. Carol has ordered several bolts of fabric to add to our Hoffmann 885 dots and the new Studio 180 Four Patch Square Up just arrived.

Change is inevitable, sometimes it is easier to ease into change rather than to change all at once. We shall see. A new long arm has been ordered and I am looking forward to seeing if I can develop some degree of expertise in using it. As Carol and I have decided that quilting is embedded in our lifestyles so we might as well begin the changes with a new (big) tool to play with!
Quilt Camps for 2018 are still in limbo waiting for the necessary registrants to sign up ~ there is still time to get your spot. A fabulous time is had by all, many relationships are created that extend well beyond the camp attended. The tools that are obtained can be used over and over ~ an excellent opportunity to brush up on your skills or create new ones. I highly recommend taking classes from Michelle Hiatt whenever the opportunity arises. I'm sometimes tempted to take one myself. Remember, Michelle is also teaching at Maine Quilts in 2018.


Carol and I have just come out of a week of sewing with a great group of Studio 180 Certified Instructors. A fun and productive time was had by all, with some of us getting more done than others. I worked on a few mini versions of some patterns that will hopefully end up in an upcoming quilt. Time will tell. Always a challenge to work with small scale designs and small pieces. I like when I am working with 1" finished blocks ~ the seams are short and the bobbin lasts a long time. That's always a good thing. I had the chance to try out the new Four Patch Square Up tool during this last week of sewing. I had thought, before trying it, "why do I need such a tool?" After seeing the exactness of the block size compared to what I sewed as a 4 patch, I will be using it for 4 patch blocks much like I use the Tucker Trimmer to make 1/2 square triangles. I personally like the concept of making my blocks larger than I need them and trimming them to be what they were supposed to be. Now in a block with a 4 patch unit in it the 4 patch unit is the exact size needed, just like my Corner Beam or V Block etc. Makes assembling blocks from my units a lot easier.


The coming of winter is pushing me into sew season. Personally I like sew season better than snow season, but I was not chosen to be the one that determines how much or how often it snows. Probably a good thing. Sew season for me means lots of sewing happens. Some days sewing all day and well into the nighttime after taking a break for supper and some TV shows. I still have to figure out a design for a quilt to be used as a show quilt for 2018's round of shows. It is really a pain when shows only will accept quilts made during the last year. Machine Quilters Expo now allows quilts to be entered if completed within the last 3 years. Not really much help though, where Vermont requires quilt to have been made between lasts years show and February 1 and both entry deadlines are at the same time. I'll figure something out. Maybe I'll like the new long arm enough and enter one I did myself. Unfortunately, snow season takes place during the same time as sew season. This means that if it snows then snow season duties take priority over the fun of sew season. Lets hope that it doesn't snow every day this winter and then we will all see what I sew.


Have a Merry Christmas, Happy Holiday, and a Happy New Year. Keep sewing and show me what you sew.
Dan
dan@threadsgalore.com

---
November 2017


November

, the year is almost over. Where did it go? Wherever it goes, it is rapidly leaving us. Thanks to the wind and rain the leaves are gone and mostly raked up. I truly believe that I am just about ready for the dreaded white stuff. I have a few minor things left to do but overall am ready.

October was a productive month. The rest of the greenhouse debris was disposed of, the garden put to bed and the gazebo torn down and either burnt or hauled off. It was never really big enough to use for much and was a royal pain to plow around ~ it's gone now!


Had different visitors in the yard a week or two ago as I chased 4 coyotes out of the yard. Two of them were quite large, kind of scary right here in town, but I guess with the amount of deer roaming around it was only a matter of time. There have been several fox hanging around for many years, so I guess I need to welcome the "new neighbors".

Quilting projects have slowed down temporarily, I am in clean up mode currently. Have been going through a box I found in the closet and salvaging what was worth saving of the pieces and cutting them into usable chunks. Seems as the box becomes more empty fewer pieces get saved. I am pretty sure much of the project residue dates back at least 16 years or more. Most of the abandoned blocks do not even give me a hint of what they were used for. Some of the fabrics look familiar but the blocks don't. Must be old age. I did finish testing a new pattern for Michelle Hiatt and am working on a mini version of it, not attacking it very hard but there are pieces laying around. Hopefully I don't lose any, 1/2" x 1" finished flying geese are easy to misplace along with the other tiny pieces needed to make the blocks. When the 2" finished block has 20 pieces in it, needless to say, the pieces are quite small!

Thanks to cleanup mode, my boxes of 1-1/2" and 2" squares are becoming large enough to decide just what I am going to do with them. I have a few ideas floating around in my head but nothing definite yet. In truth, probably won't really know until I begin working on it. Maybe not even then. Only thing I know for sure is there will be a lot of small pieces in it.

Enjoy the rest of your Fall and upcoming holiday season. Think up those cold weather quilting projects and get started ~ it honestly does make the winter seem shorter when you have something to show for it.

Dan
dan@threadsgalore.com
---
October 2017

October brings the end of the growing season and the end of the phase of my life where spring, summer and fall are spent planting, tending, watering, weeding and whatever else is required to get plants to grow here in Rangeley, Maine. I must say I have enjoyed it but often wondered what I would spend my time doing, or even what I would have spent my time doing had I not received the gardening bug from my ancestors. The greenhouse is gone ~ not completely cleaned up yet but hopefully will be totally gone within a day or two. Calling for a freeze tonight, for me that is the signal that tells me fall is here. Next is the rest of clean up ~ there are leaves, dead plants and all sorts of projects that will need to be completed before the snow begins to fall. The hard part is that I have no idea when that will happen. (the snow or the clean up)

| | |
| --- | --- |
| | |
September brought some great weather and a couple of trike rides, both with Carol and alone. Weird riding in late September and still in my tee shirt. That has changed though. September also brought us through the Maine State Guilds workshops and trunk show. The classes were enjoyed by all and I didn't hear anyone snoring during the trunk show so would deem all a success. Fall Quilt Camp is rapidly approaching, I have a little more prep work and to finish the borders on the queen size Chasing Points pattern I am working on so the top can be shown at Camp. There are a couple of spots available if anyone is interested. If attending one of our Quilt Camps is on your bucket list then putting if off into the future may well mean you miss out as attendance at camps is limited as well as the number of camps in the future.

Fall brings, for me at least, more quilting time. As outside chores get completed, more time will be spent inside. For me, inside time equals sewing time. Sew many projects, sew little time. Am testing another soon to be released pattern of Michelle Renee Hiatts ~ interesting flying goose project. She seems to be on a roll producing new patterns for all us Studio 180 followers. Remember, mastering a Studio 180 shape or tool allows you to use this tool on any of your projects requiring that shape. Just follow your tool instructions instead of your pattern instructions, all you need to know is what your finished unit for that shape needs to be. Remember to have fun, but in my book the ease in obtaining excellent results is part of the fun.

Enjoy your Fall, remember what is next, and get ready to hibernate with your quilting projects. Stay warm and keep quilting.

Dan

dan@threadsgalore.com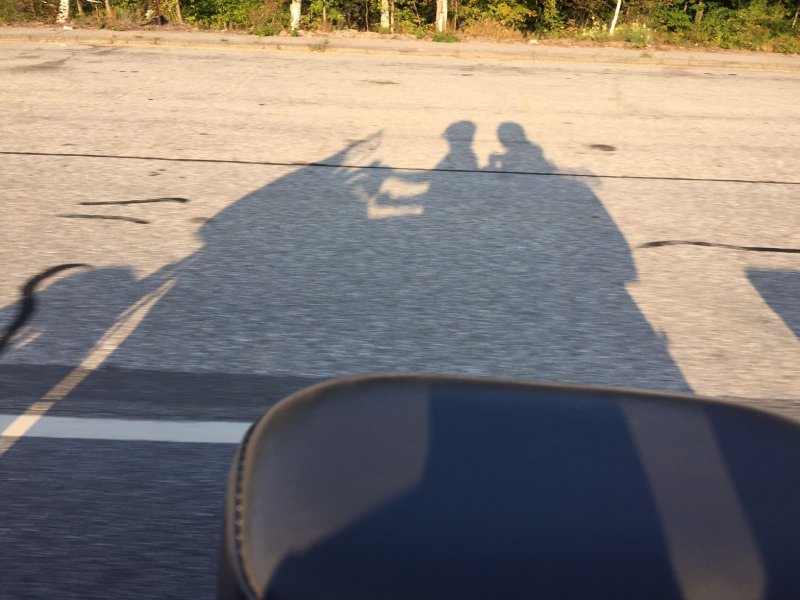 ---
September 2017
Welcome to September, the beginning of the end of the summer season. September brings the end of the growing season, the time for the leaves to change color, the time to get ready to be COLD. Cold weather naturally comes every year up here in the mountains. The flowers are starting to look a little weary and the vegetables are fading fast. Overall not a bad summer, just never really got that hot for any extended period of time. I guess I'm still about ready for a change.

Carol and I will be doing a couple of workshops and a trunk show this month ~ should be a good time for all attending. Quilt Camp is rapidly approaching as well and some prep work for that is needed. I am working on a queen/king version of our Chasing Points pattern which is one of the Camp projects this fall. I'll have to pull away from it to do workshop prep work but will get right back on it. It is coming along quite well. It will also be a Christmas present for my oldest daughter Vanessa. (she knows, she had to approve the fabric choices!)


Lots of puttering outside is needed to get ready for winter, along with more clutter clean up. Hopefully during September the greenhouse will be torn down or a least continued further along in that process. Haven't decided if change is good or bad ~ it just is.

Enjoy the fall and get your projects lined up for the cooler weather that is sure to come! And remember to keep quilting!

dan@threadsgalore.com
---
August 2017

The beginning of August signals the beginning of the end of summer 2017. Rather scary when one thinks about it. July brought us the Maine Quilt Show. We had a good show, 5 of our quilts were hanging on display. Two of them were in the judged division. I guess we didn't realize that both our entries were in the same division. "Third Times the Charm" received a Blue ribbon and an Outstanding Machine Quilting Award. "Calm Seas" received a red ribbon and my mini "Calm Seas" was well received with many comments.

August means that if the gardens are ever going to do anything they had best start. We are starting to be able to pick various things ~ cucumbers, summer squash and zucchini and the cherry tomatoes have been plentiful.



The gardens up by the entrance to the Quilt Shop are looking good, the perennial gardens are looking sad ~ have not spent much time on them. As I have mentioned at other times, I have given up competing with the deer. The gardens are way too much work for my aging body to spend all that time to wind up "seeing" my efforts as little black droppings all over the back yard. The wood storage and spring seedling area at the back of the greenhouse is gone, the chimney and the center concrete block section will be next to come down. The front section is still producing tomatoes, peppers and cucumbers so will stay until they are through then goodbye to that period of my life. No bites on the houses, so still waiting to see what the next phase will bring.

Need to get going on some sewing projects. A couple samples need to be pieced for a couple of Pine Tree Quilters Guild workshops I will be teaching next month. I'm sure a good time will be had by all.

Enjoy the rest of your summer, get some quilting done or a least get started on thinking about what this fall's projects will be. As always, comments and questions are welcome at dan@threadsgalore.com

---
July 2017

July hopefully will bring some summer with it. Warm sunny days have been few and far between. Plants in the garden are sitting and apparently waiting for summer as well. I'm sure that it will arrive at some point, but the longer it takes to get here the shorter it will be. The tomatoes, peppers and cucumbers in the greenhouse are doing great. No ripe tomatoes yet but lots of green ones ~ a few cucumbers have been provided for Carol's salads. The flower gardens are struggling with the weather as well. The lupine are fading and the foxglove are beginning to make their appearance to take over the garden where the weeds haven't overgrown them.

| | | |
| --- | --- | --- |
| | | |
More of the perennial gardens are scheduled for elimination later this summer after I get a last look at their bounty. Change is hard, but inevitable. This will also be the last year of all the flowers up by the entrance to the shop. The greenhouse is being torn down this fall, so with no greenhouse I will not have the abundance of flowers to put everywhere. I have my fun with them in the greenhouse, therefore, no greenhouse equals no flowers. My flower displays would have cost me hundreds of dollars every year to go buy, but with none of the enjoyment of planting and nurturing them to the flowering stage. There is very little of the gardening process that does not cause me some degree of pain ~ some parts a lot, some not so much. My years as a plumber were very hard on my body, prompting part of the decision to end flower gardening. With the vegetable garden being fenced I can keep the deer at bay ~ I get to enjoy whatever I grow in there. Outside the fence, not so much. All my efforts and energy spent trying to produce a pretty flower can be eliminated in one night with the deer showing up to feed. So, I guess I need to say "thank you" to the misguided people who think they are doing the deer a favor by feeding them ~ they have made what I always thought would be a very hard transition in my life a lot easier. I'm tired of working so hard to receive no blooms to show for it. I had a lily given to me four years ago, I have seen blooms on it once, the deer got them the other three times. The only thing that has saved me over the years is that the greenhouse provided me with hundreds and hundreds of flowers so if I lost a few most people could not tell the difference.

Vermont Quilt Festival was last weekend. I went for Saturday and Sunday to bring home our quilt with it's yellow 3rd place ribbon. I went on my trike and about froze on the ride home Sunday night but had a good time. As usual, the judges comments were worthless but interesting, nonetheless. Comments usually consist of telling us what they like, seldom telling what was needed to receive a higher ranked score, with the judges completely contradicting each other. Overall, not that beneficial.

Maine Quilts will happen later this month (July 27 ~ 29), look for us in Booth #5, same place we were last year. We will have five items on display in the show this year, plus the Maine Shop Hop Challenge wall hanging. I'm sure it will be a great show.

I haven't had much quilting time lately, but am feeling the urge to get back into something for a project.

Enjoy the summer and keep quilting. Come up and enjoy my flowers one last time if so inclined.

See you at Maine Quilts. 'Til then, enjoy.
Dan

dan@threadsgalore.com
---
June 2017
Hopefully, the arrival of June brings along the lost spring that has so far struggled to show it's presence. After all, summer begins during June, therefore, we should be able to prepare at least a little. This month also contains the Vermont Quilt Festival held from June 23 ~ 25 in Essex, VT. One of our quilts, "Third Times The Charm" will be hanging in the show.

The greenhouse is slowly being emptied for the last time. Within a few days, all that will be left will be some veggies. They will remain in there all summer. Next, I will begin the tear down process and clean up of the area around and under the greenhouse. As things get planted outside this season, the pots etc are being thrown out as that stage of my life is being placed in my memory banks where, God willing, I'll be able to retrieve at will into the future. The vegetable garden is about half planted as I write this, with plans to finish up very soon. Peas are up and fingers are crossed, but I won't get the water boiling just yet.

The trike has been sent down the mountain for some attention and hopefully won't take long. June also begins prime riding season in Maine.

As you may know by now, Carol and I have made the decision to place our properties, consisting of the Quilt Inn and our home and Quilt Shop on the market. (I say already know, because if you didn't like to eat your dessert first, you read the main part of the newsletter before jumping to my ramblings) Yes, that is right, both properties are for sale. That said, I can show you properties in the area that have been on the market for years. Still, who can predict how long houses will take to sell. I have enjoyed my time here in Rangeley ~ to have been blessed by the many warm and interesting people I have crossed paths with ~ the community, the quilting customers and my old plumbing clients all provided many memories to be held in those precious memory banks. However, selling is a necessary step in our life plan as we require an infusion of capitol to move to the next phase of our journey. Many of the facets of that journey are still unknown at this point, but this step needs to happen first.

Enjoy June, maybe I'll see you in Vermont later this month or at Maine Quilts in July. Be safe, keep quilting and remember to eat your dessert first. And remember what my grandfather always said ~ "the only thing that is constant is change".

Dan


dan@threadsgalore.com



Mid-May 2017
May finally brings spring to the Mountains. The leaves are slowly popping out, soon to turn the background of the landscape various shades of green. A very pretty and fast changing time of year. The flower gardens turn from brown to full weed covered in no time ~ almost glad the gardens are getting smaller. The vegetable garden has lost about a third of it's planting space as the lawns become larger at the expense of the gardens. As I write this and look out the window it is snowing hard with big wet snowflakes ~ poor man's fertilizer or just a pain in the butt? I'll take a sunny day in the 70's anytime. The greenhouse is getting full as I am missing the 16 feet I took off last year. Oh well, the rest will probably come down this fall, it was a lot of fun while it lasted but represents a great deal of work that I just don't seem to have the energy for anymore. Maybe if others did not feed the deer to attract them to the town area I would feel more rewarded by the amount of work I put in to see the flowers. I find I no longer have the energy to compete with them.


| | | | |
| --- | --- | --- | --- |
| | | | |

Spring Quilt Camp is complete and a great time was had by all. Four spaces are still available for Fall Quilt Camp 2017, sure to be a good time. Sign up quick to get your spot!

Memorial Weekend marks our 21st year of operating Threads Galore Quilt Shop. We have seen many changes over the years with a lot of fond memories of new and old friends and acquaintances. Stop in to see us and become a member of our extended family.

Downsizing and cleaning has brought about a need and I see a few yard sales in our future. Hopefully the first will happen over Memorial Weekend with more happening as the summer season settles upon us. All kinds of "stuff" ~ from old tools to barely used tools, knick knacks and old treasures, some old wool and quilt related items and pretty much anything we no longer need (truth told, some "stuff" we never needed in the first place). Old "stuff" we can't bear to throw away, hopefully treasures for others to cherish. Who knows what will show up on the sale table ~ stop by on Saturday, May 27th for a look-see!

Keep sewing, even if the season brings other projects that seem more important. Nothing warms like a quilt made with love and stitched with care. Enjoy!

Dan
dan@threadsgalore.com

---
April 2017
April means vacation is over. While the shop was not open we were here most of the time getting things done. Clean up and re-organizing of the shop took place. The bathroom remodel is 90% complete. We are now waiting for the carpenter to complete the one step of the process that I did not want to do ~ that is to build the cupboard under the window. Then much of the room will get it's final coat of paint.
The greenhouse is back up and running! No glitches this year. The porch geraniums have been moved out of the basement into the greenhouse, been cut back and many root cuttings taken. Most of them have started to root and the first new baskets have been planted. Carols cherry tomatoes are up along with some peppers and Angel's Trumpet. Not bad, when I think it was about March 20th or so when I fired up the stoves.
April means MQX's spring quilt show in New Hampshire is almost here. I will be attending the show from Wednesday night's preview through the close of the show. Hope to see some of you there. Remember, I'm great with faces, lousy with names so I may need to be reminded of yours. Don't think it's an age thing but who knows. My Calm Seas mini quilt will be on display in fellow Studio 180 Instructors booth ~ Wheatley and Thomas ~ they are in Booth #213/218 in the Armory. Stop in and see what is new.
April also means that Spring Camp is next month. Hopefully, it will look more like spring by the time we reach May, as it certainly doesn't now. Looking at the snow in the yard, it easily could still be mid February. Still 2-3 feet of snow in most of the yard and in the gardens. At least no black flies yet!
April arrives with the State of Maine Quilt Shop Hop as well. We will be here every day (except Easter) for your hopping enjoyment. If already a Studio 180 Design fan, remember to line up your 180 tools and technique sheets and take a picture with your cell phone before you leave home. That way you will know which ones you already have. Always remembering that you bought your Studio 180 Design Tools to make the different shapes not to make a particular quilt.
So maybe I'll see you in New Hampshire next week or sometime during the Hop. Enjoy the arrival of spring, keep quilting and have faith ~ in our memories the snow has always melted. I'm sure it will this year as well.
Dan

dan@threadsgalore.com
---
March 2017


The arrival of March means vacation time for us! Are we headed south to warm weather? No, but hopefully the extra free time will rejuvenate us and allow me the time to finish the bathroom before April and Maine Shop Hop. The project is continuing along slowly. As most home improvement projects, it was more involved in reality than it was perceived to be going in. Not much more, but when about all the steps were and will be completed by me, it takes time. So far I have demoed, poured mortar under the shower, put the shower in, changed the piping for the bathroom, prepped for the pedestal lavatory, added a new light, made a few other wiring changes, framed a new ceiling, sheet rocked the walls and ceilings, taped and sanded the sheetrock and primed and painted the walls and ceiling. Still up is to cut and install the bead board, install door and window trim, more painting, re-install the heat, finish the water lines for the lav, lay the new flour, set the pedestal lav, set the toilet, hang the new lights and install any accessories or other things I forgot to mention. Yep, April will be here before you know it.

At some point this month I will fire up the greenhouse for what will probably be the last time ~ see what seeds are still viable and see if I can prep enough hanging geraniums to fill the porches and plant enough seeds to fill what containers I will use around the yards for the upcoming season. No where near the volume of plants like I did in past years, but still quite a few I'm sure.

February brought a lot of snow and the snow mountain got quite large, but with the warm weather that followed, much of it has melted. I'm sure that more will arrive before this winter is behind us. All in all it looks like we have survived through another one.



I finished my mini version of Michelle Hiatt's soon to be released pattern "Calm Seas". The pattern is a lot of fun and making the mini reminded me how much fun minis are. We have submitted two entries for the judged division for
this summer. Carol has quilted one and the other is on the longarm getting it's creative stitchery to complete the process.
Enjoy March, hopefully most of the snow will go before April when many of you will come visit for Shop Hop. So, I guess I'll go back to work and see if I can get ready for you.

Spring is coming!
Dan

dan@threadsgalore.com
---
February 2017

WOW! January is over. Busy month. I like our new hours though of having Sunday, Monday, Tuesday and Wednesday off ~ almost reminds me I'm supposed to be retired. The bathroom project has started and is moving along quite well. The room is now empty, gutted and is beginning to come back together but it is a slow process with each day bringing new obstacles. Almost makes me want to go back into construction again.....NOT! While so far it has been "fun", I almost hope it will be the last one I ever do. So many steps. Almost like making a quilt! See how I got to where I am today? I have always thought that there was a lot in common between construction and making a quilt, especially when designing it is part of the process.

Had fun testing one of Michelle Hiatt's new patterns that she is currently working on ~ a variation of a storm at sea quilt she is calling "Calm Seas". She is working on several new patterns to be available in the coming months, three of them are projects you may choose at our Fall Quilt Camp 2017. I am working on a miniature "Calm Seas" now.


| | |
| --- | --- |
| | |

Carol and I are teaching a workshop this month ~ remember your group can hire us to come and work with you as well. Learn precision piecing that can be reproduced again and again. Studio 180 Design Tools allow this to be possible. It is often commented that I must paper piece my projects, but the precision is achieved through the use of these tools. It certainly has made my quilting experience more fun.

Only a couple more months and I will turn the heat back on in the greenhouse for what will probably be the last time. I have had a lot of fun in it, but the times they are a changing. The gardens have been shrinking and will continue to shrink more. This reduces the need for the greenhouse. Sadly, I am sure I will miss it, but won't miss all the shoveling and snow clearing it requires.

So keep quilting and create something beautiful. Hopefully, in March's newsletter I can tell you about the completed bathroom project.

Stay warm.
Dan

dan@threadsgalore.com

---
January 2017

January and the beginning of a New Year is usually a reflective time of year for me. I look back at the last years achievements and in many cases lack thereof. I say that, because like many of you, what I set out to accomplish does not always reach fulfillment. Try as I may, I usually find I lack the effort to fully follow through on some of my "lists". I have stopped writing down my long term lists, they were too frustrating to review later. I have found if I leave them in my head many of them just get forgotten. I guess I look at it that if I forgot it, I must not have really wanted (or needed) to get it done anyway. A large chunk of the gardens behind the Quilt Shop were removed last summer and quite probably more will be this season. While looking through some older pictures of gardens past, it is a little depressing to see all the beautiful flower areas that were maintained and no longer exist, but I honestly have no idea where I found the time to create them or maintain them in the first place. I have come to accept that as "they looked pretty" the emphasis now is on the "looked". Time moves on and things need to change for us to live our lives.
Speaking of changes, one of the big changes this year will be the reduction of the shops hours. We are starting the New Year with January and February having those reduced hours. The new hours will be Thursday through Saturday 10 - 4. Hopefully this change of hours will allow Carol and I some time for completing some other not necessarily quilt related projects, although those as well. One of these will be the remodeling of the bathroom in the Quilt Shop. This is a project that has been on the back burner for a while and the time has arrived. It will mean that the bathroom will be out of commission for a period of time. So if planning on visiting the shop in Jan/Feb (remember Thursday - Saturday) best not to plan on the bathroom being functional. I used to get excited about a new project like this, these days ~ not so much. One disadvantage of being a DIY/handyman and a Mainer, I know how to do the project and therefore am too cheap to hire someone else to complete it for me. I am in the process of replacing the pedestal lavatory in the Quilt Inn large bathroom that was damaged. With this project I am reminded that although I spent most of my adult life as a plumber, it is a part of my life I would gladly refrain from doing anymore. Sigh ~ to be honest, I would prefer piecing a new quilt project or just reading a book.
The annual growth of Mt Bumpy, (the snow pile created when clearing the parking lot) is well under way. Over the past few days tunnels and cavities have been created within the pile. I honestly think I have more fun than the kids.


I am currently working on the piecing of the Maine Shop Hop Challenge quilt. This year the design is one of Carol's. We are calling it Memory Lane in honor of Carol's Mother. Coming right along, its only a wall hanging so won't take long. Then if the DIY projects don't get in the way too much I will move on to who knows what! Regardless of what else I will be working on, a quilt project to work on in the evenings will be a must.
Enjoy the New Year ~ it will be the old one before you know it. Find a quilt project to make that maybe takes you out of your comfort zone, that is where we learn. Never be afraid to try something new, it is within the changes we find the pathways that allow us to grow. As always comments are welcome when sent to dan@threadsgalore.com.
---
December 2016
In my mind thoughts of December dwell on snow and cold weather. That has not been the case this season, at least not yet. November was quite warm and ended with wet rain, not snow. While there has been snow on the ground for days, I have not needed to move any of it yet. The groundwater table needs a heavy snow pack to rebuild so wells and fire danger won't be issues next summer. That would allow us to return to whatever we can call the new normal.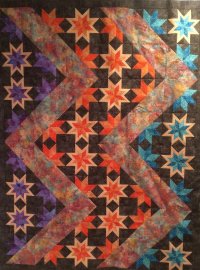 I have been busy sewing. I mentioned working on Michelle Hiatt's upcoming new pattern "Lightening", it was a lot of fun and the top was added to Carol's pile. I also spent some time cleaning out some drawers in my sewing studio ~ found a few left over blocks that made their way into a couple of table runners. Also played with a diamond look for a top that is still in the design stage ~ came out OK but will change a few things (along with fabric choices) before I try again. I am working on a top for Carol's mother now. It is Carol's design adapted from a quilt she made several years ago. All I really changed is the size of the blocks, it's coming together well. Hopefully will finish this week. Carol has begun to talk about breaking my sewing machine so top completion will slow down.


| | | |
| --- | --- | --- |
| | | |
The plants downstairs need some attention, mainly some clean up of leaves and deadheading. In other words, just time. My time will be decided by a power much higher than I. No, not Carol, even higher! If we begin to have winter and get snow, much of my time will be used up by moving it. Truth be told, I'd rather move snow than chase around with buckets of sand and salt which is what the warm weather means up here in the mountains.

So, here's to a "normal" winter with a lot of snow, even if that means lots of moving it. Let's hope winter also means a lot of sewing time. As always, I like feed back and pics of what you're are working on. I can be found at dan@threadsgalore.com. Enjoy!
---
November 2016


The calendar

says November is upon us. The first snows have fallen, fortunately nothing that needed to be shoveled but I'm sure that will be arriving before too long. The gardens are history for 2016 ~ a few plans have been made for 2017 but nothing too drastic. More gardens will disappear and the vegetable garden will shrink. The greenhouse is slowly becoming empty as the few plants I winter over find their way into the basement where grow lights will keep them alive until spring. Very soon I will finish draining the water and shut the greenhouse down and stop heating it, then gardening for 2016 will be officially over.


Our
final Quilt Camp at The Country Club Inn was enjoyed by all and plans are under way for it's move to The Rangeley Inn & Tavern for the future. Spring 2017 is FULL and Fall 2017 is filling rapidly. If you have ever considered joining us for one of our Camps, don't wait too long. Time has a way of changing things ~ while we don't look it, Carol and I are getting older. Life has a way of altering our direction and change is inevitable. While no end is in sight, an end is also inevitable as we journey through our lives together.

Fall quilting projects have been fun. I finished three tops chasing an idea I had while working on Michelle Hiatt's pattern "Jenn's Journey" using Studio 180 Designs Large Square Square tool. They were fun to make and easy to put together as my design did not require matching blocks point to point. I am currently working on testing a future pattern of Michelle's to be call "Lightening". It is a fun Lemoyne Star pattern and is going together quite nicely.




Have a safe and enjoyable Thanksgiving and keep quilting!
dan@threadsgalore.com
---
October 2016
October is next, although we are officially in Fall already. October means our Fall Quilt Camp at the Country Club Inn ~ a wonderful time will be had by all. There are still a few spots left in our Spring Camp if you are interested and missed out on the Fall Camp.

The gardens are being cleaned up and gotten ready for winter. While I have not had a killing frost, with this years lack of water most plants are looking pretty worn out. As usual, the porch geraniums are still looking great. Another flower garden is now lawn and I am thinking about the elimination of yet another behind the shop and am in hopes to have time to shrink the vegetable garden as well. Less space will hopefully lead to better tended and more productive gardening. Time will tell.

In my quilting, I have finished the top for Michelle Hiatt's new pattern "Jenn's Journey". It was created with fabrics that are not my normal color choies. But I was pleased with the outcome, had a lot of fun making it. I am currently working on a design of mine and have not decided on a name yet. Although I am liking the way it turned out, I am looking forward to trying it in another color variation or two. Hopefully can get it into pattern form in the future. That process is a whole lot more difficult than you can imagine. The graphics are where the major roadblock lies. We'll see what happens. Remember the effort designers put in to get you a quality pattern when you think about making a project from a copy obtained from a friend. There is not much money made per pattern so when you utilize a copy, a designers return on their efforts becomes even less. Would you steal a pattern from a shop? Same thing.



Enjoy Fall, the leaves are changing, the days and nights are much cooler. The only issue is, we all know what comes next ~ Quilting Time, better known as winter!

Til next time, stay healthy, keep quilting and don't be afraid to try new ideas and step out of your normal comfort zone. As always, I welcome comments ~ dan@threadsgalore.com

---
September 2016
September's arrival marks the ending of a very pleasant summer. The warm sunny weather was a welcome change from some summers of late. The gardens did great when I supplied them with water and kept the deer out. The deer have been a real nuisance this summer. They are present at virtually any time of the day. While I have not had them in the greenhouse this summer (like last summer) I did chase one out from under the garage on one hot summer day while watering. I got to see blossoms on a hybrid lily for the first time this summer. I have one that was given to me a few years ago ~ last year the deer ate the buds just before they opened. Four lovely blooms this summer.

The greenhouse is full of tomatoes and a few peppers, all are doing great. Am picking tomatoes regularly and am holding off picking many peppers to see if they will turn red. Peas and beans did fantastic, zucchini is become a nuisance. If local, don't leave your window open when going to the Post office, you might get a surprise.

August meant that the get-together of some fellow Studio 180 Design instructors has occurred and a great time was had by all. I worked on a four-block sample of Michelle Hiatt's Amusement
pattern. This is one of the projects we are offering at Spring Quilt Camp 2017. Was an interesting project and would make a good choice for any attendees.

So, get ready to complete your fall projects, this season is rapidly coming to a close. Hopefully, we still have a couple months before it gets cold but in the mountains one never know. Keep quilting and enjoy!

Contact Dan
---
August 2016


August, not to sound like everyone else but "where is the summer going?" July being gone means that Maine Quilts is in the books for 2016. A fun time was had by all. While we did not enter a quilt this year, there were quite a few very lovely quilts hung for all the enjoy. Best of all it did not rain during set up or take down, that made me happy.

The garden is struggling to stay alive in this heat and lack of rain. We have had quite a few meals of peas and the string beans are just starting. Zucchini, summer squash, broccoli and red cabbage are pickable. Carol is also getting cherry tomatoes from the greenhouse for her salads ~ the only time of the year where to keep everything under control more than one meal really needs to be consumed every day.

Am going to be brief because I have beans to pick and am supposed to be sewing with several of the other Studio 180 Design Instructors over at our Quilt Inn.

Stay cool, find time to quilt and see you next time.

Contact Dan

---

July 2016
The arrival of July continues the trend of odd weather for the season. The weather has been really dry, this means that many days not much gets done other than move hoses around and set sprinklers. I suppose that time would be spent mowing lawns if we had the rain. My annual gardens are starting to fill in as the plants have recovered from the transplanting and are learning to be content where I put them. The lupine are going by and many of the foxglove are already in full display. The bearded iris did well and many are still showing off. The vegetable garden is thriving wherever I can get enough water spread on it. The greenhouse is full of tomatoes and several peppers this season as well. Many have already reached the extent of what they will be allowed to grow in height, as I have topped them to keep them from hitting the plastic of the hoop house.

Vermont Quilt Festival has come and gone. Our quilt, "Always a Way", did quite well there. The quilt was awarded a blue ribbon and also received the ribbon for Best Machine Quilting on a long-arm. The second award was quite definitely (as was the other, truth be told) Carol's ribbon. Was able to go to VQF on my recently returned Honda Gold Wing that was converted into a trike. Now Carol and I travel around on three wheels.


Maine Quilts will be here before you know it, be sure to stop by Booth #5 and say hi. I will be demo-ing Studio 180 Tools throughout the weekend.
Well, back to work ~ I think I hear some weeds calling!
Contact Dan
---
June 2016


June's arrival means that summer will be showing up on the calendar. This season the weather has been so warm that it is hard to believe that it is still spring. I planted much of the garden before Memorial Day ~ I have my fingers crossed, but don't see cold weather in the forecast. I spent the Memorial Day weekend planting my annual gardens. Most are now done, many fewer plants than in the past but it hopefully will produce a good show for the season. Who knows, maybe the deer are eating it as I write this.
June also means that Vermont Quilt Festival will be upon us before we know it. I will be going for a day or so, commitments on the home front will keep me here for some of it. "Always a Way" will hang there for your enjoyment. Maine Quilts coming next month ~ wait a minute, if I say that, it sounds like the summer is almost over and it it has not even started yet. It is amazing how fast the time flies. My top for Maine Quilts is still hanging on wall waiting for Carol's inspiration.
Much more planting to do, mostly in the vegetable garden and there is always weeding to do in the back yard gardens. Weeds grow well if nothing does.

You may remember I raised the garage over at the Inn last fall ~ during the process we replaced the garage door. Carol & I thought that it was way too white so a Rangeley Star quilt block was applied to the door, now it looks like it belongs at the quilt shop! Milk can needed to look like it fit as well.
Hope to see some of you at Vermont Quilt Festival in late June. Keep sewing but take some time to enjoy the season, it will be cold again before you know it.
---
May 2016
The arrival of May this year brings a spring like I used to have when I lived further south. The ice is out, the snow is gone and the ground is warming up ~ slowly, but it is warming up. I tilled the garden earlier than I can ever remember doing so and it was drier as well. I have finally decided that it is time to clean up the debris from last fall and uncover the perennial beds ~ the new growth is arriving fast, if it gets too far ahead then I will never catch up. Am really losing interest in the flower gardens behind the Quilt Shop. They take up a great deal of time and energy and I never really know when the deer will come in and clean me out. So what this means is that more of whatever I have for flowers will be probably be grown over behind the Quilt Inn in what was always the vegetable garden and that more of what was always flowers will be lawn. I know, I hate that four letter word as much as anyone. I started out with my first real, non-family job mowing lawns, sadly I have never really learned to enjoy doing it. The only fun to be found in lawn mowing is that it doesn't take that long each time, unfortunately it becomes a habit quite quickly as I like my lawns to look like they were just mowed not like they need it. Oh well.
The greenhouse is full of rapidly growing plants, most will either end up around the front entrance to the shop or over next door inside the fence. This will not make the flowers as available to view as they were in the past, but I guess that is the price I have to pay for others deciding they need to feed the deer so they can watch them congregate as a herd around their feeders thereby developing an in-town deer herd numbering in the dozens. This allows me to assist the economy by my purchasing insect & tick repellant and Deer Away to try to drive the deer and their pests out of my yard.
Spring Quilt Camp was deemed a huge success by all who attended. The Campers talked us into scheduling another for next spring (May 3 ~ 7, 2017) with all the info to follow soon. Sign up early, as I think space may become limited. Several projects will be offered or, as a new twist next spring, come and work on your own Studio 180 projects. Tool demos and additional help will be provided as needed and as time allows, for your Studio 180 projects. (we request you let us know what other projects you are bringing.) Hopefully, many more of you will join Michelle and I at this wonderful venue. Lots of space and a marvelous atmosphere for learning and sharing our quilting journey.
Am currently finishing up what, I guess, will be my next show quilt. It did not begin life intending to be that, but what did I know when I started it? Almost done and am becoming happy with it. Outer border is all that is left before Carol's magic is performed, turning it into a quilt. A fair degree of de-sewing took place backtracking, but that sometimes happens when designing on the go. A few stumbles and changes in direction can always be expected when the destination is not known before starting. That is part of the fun in the journey of making a quilt top.
Enjoy the journey.
---
April 2016
The arrival of April and the beginning of the Maine Shop Hop does not look at all like many I remember from previous years. The snow is about gone, mud will still be a factor due to the freeze/thaw cycle but over-all a very mild winter and spring so far. The forecast is not very good for a few days upcoming but whatever arrives won't last. The greenhouse is back up and running! I returned from my retreat with Deb Tucker and a bunch of the Studio 180 Design Certified Instructors on Sunday. Fires were started and on Monday I turned on the water and filled my water tank and started heating it with the boiler stove. Five trays of seeds were also planted on Monday as well. As I write this several of the trays have started sprouting. Growing season 2016 has begun.
Am working on a top now that I designed to work on at the retreat. Coming along nicely, most of the blocks are done, along with several of the rows sewn together. It doesn't have a name yet, been calling it the Reunion Quilt.
The reunion was fun and several new techniques were learned along with many tricks of the trade. Several discussions were conducted regarding teaching ideas and ways to approach different issues. New tools and technique sheets will be coming out soon. Always fun to quilt with such a talented group of like minded people. Met with Michelle and she is excited to be coming up here to Rangeley for Spring Quilt Camp in a couple weeks. There is still room if you are interested.
April also means Machine Quilters Exposition or MQX as most of us call it. It is happening in Manchester, NH, April 6-9th. Some beautiful quilts will be hanging along with many venders selling the latest and newest fabrics and gadgets, should be a good time. I will be there probably on Thursday with Carol going down on Saturday to see the quilts and bring ours back home. It may be Spring but that doesn't mean you have to stop your quilting! I may not sew as much for the next few months but still will try to get in an hour or so every day, projects still move forward that way.
---
March 2016
March 1st brings us to our shut down month ~ much anticipated and much too short. While we are closed, there will be some cleaning and rearranging along with some sewing and other projects getting done. February saw several new tops be made, I'm sure that March will continue that theme. A visit to our oldest daughter and her family will happen later in the month along with my retreat with the Studio 180 Design team of Certified Instructors including a few Tuckers! I also received the news in February that our quilt "Always a Way" was accepted into MQX. Hopefully both Carol and I will get to attend the show this year, not together, but both get to go.
If all goes well, March will also see some of the projects attacked that were intended to get accomplished during the winter. With me being under the weather during January, very few projects were started and none completed. March break should change that. Nothing dramatic is planned but lots of little touch-ups here at our house and the shop, and also at the Inn. More dump runs and organizing of storage areas.
The end of the month should see the greenhouse turned back on and some seeds started. I have missed it this winter and anxiously look forward to spring planting. I saw a five years ago post on facebook that showed a tomato plant in blossom ~ that won't be happening anytime soon. Hopefully, starting seeds a month to a month later than usual won't be a total disappointment.
When April arrives we will be bringing you our final Spring Quilt Camp. We tried, but after two years we have determined that there are just not enough of you interested for that time of year. Way too much effort and costs involved for an event that runs at about half capacity. There is still time to get in and join us ~ those of us coming will have a grand old time.
---
February 2016
February is finally here. There was times during January that I thought it would never get here. I was sick for most of the month ~ thank you Carol for tending me. I had the flu followed by pneumonia, not a fun time. For most of the time the couch was my best friend. Hopefully that is all behind me. Good thing I was not heating the greenhouse, I would have lost it and not even cared.
The plants that I put in the basement are still alive although not doing as well as they would have been normally in the greenhouse. For the first time in a very long time I see trips to commercial greenhouses in my future. Will bring greater variety of plants but will not be the same as knowing they all came from my greenhouse and mostly my seeds. Hopefully I will get the greenhouse warmed up early enough to get some plants started but they will be much later than usual. We will see this season if the late start will be even worth it. Possibly not for most flowers but should be OK for some vegetables. Only time will tell.
Needless to say I did not get much sewing done during January. Back at it in full force now, which for me, is being at my sewing station between 4 and 10 hrs every day. It's winter ~ thats what I do. Just finished a scrap quilt, actually an earlier design that is named "Sashing Strips Can Make you a Star". I had drawn up a show quilt but at the scale I wanted to make it I found it awkward to get it as precise as I needed it. May try again some time, at a larger scale, and see if it is any easier. The next design is well on its way, fabrics finally chosen. This one looks like it will be more fun to build. Can't wait to see what it looks like in fabric.
It has been a weird winter so far. December and January both warmer than usual. We patiently wait to see what February will bring. February is a busy month getting ready for our March Break, seeing how much can get accomplished before then. Applications for MQX in Manchester and Vermont Quilt Festival were both due February 1. They are on their way, now we wait to see whether they were accepted. One never knows with juried shows, acceptance is up to the jury. Received info today that "Lotsa Lemoynes" was juried in to the Mid-Atlantic Quilt Festival in Hampton, VA. Visit the show to see it hanging.
Spring Quilt Camp is rapidly approaching, there are still places left for you and your friends to join us. Sorry to say, but this will be the last year we do a Spring Camp. We are finding it too difficult getting enough attendees for this time of year. Many wanted us to move it to coincide better with school vacation, unfortunately that did not help with registrations. So come join us this spring you'll be glad you did!
Enjoy this El Nino winter, spring is only a month and a half away. It may not seem like winter but now is the time for quilting. So make time for your sewing and make something beautiful!
---
January 2016
January brings with it a time of new beginnings. For me it is a time of deadlines and time spent piecing. The deadlines are for entrances into quilt shows so that the jury process can begin. Most shows are juried and one has to wait to see if the jury participants like your pictures well enough to want to hang your quilt in their show. They don't always make the cut. Whenever I am not moving snow much of my time is spent piecing. December was a productive month (there was no snow). Four lap tops and a king top were completed. My show quilt was designed and am also working on a large scrappy top. Now if only the weather doesn't overwhelm me, January can be productive as well.
Well I have discovered that the wood stove in the greenhouse was not the only reason I pieced long into the night. I just hate to quit most nights, its like I want to see how much more I can get done on whatever top I am working on. Almost all the time I have another idea that I can move on to as soon as I finish one project. The only real problem with that is I am getting farther and farther ahead of Carol.
It is only now getting really cold nights. As most of you know, this past December was the warmest on record. Now that it is colder I will begin running a fire nights to keep the greenhouse from getting frost heaving cold. The plants that I put under grow lights in the basement are doing ok. They don't appear to be real happy but they are growing some and staying alive. It's only about 55 degrees down there and that is about the lowest it would get in the greenhouse, not the average.
We still are struggling to get the required numbers for Spring Quilt Camp. As I have said before, if you are interested get your signup sheet and deposit in as soon as possible. We are constantly asked if we hold classes to teach the Studio 180 methods. Our Spring & Fall Camps are the primary class venue for us and is an excellent opportunity for anyone to learn and perfect the methods. Remember, you do not have to be an expert piecer to join us. If you know your sewing machine, rotary cutter, and can sew a 1/4" seam, when necessary the rest can be taught during class.
So enjoy 2016 and may it bring joy and happiness to all. If you can, come sew with us and learn the fun of piecing the 180 way ~ you'll be glad you did.