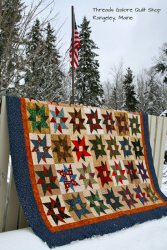 We are surrounded with winter beauty now, from the frost covered evergreens to the sparkling fresh-fallen snow. While many of you believe us to be located north of your winter comfort zone, we assure you that travel to and from Rangeley is quite popular in the winter months. We are a four season destination resort area. Our road crews keep this area in tip top condition! We invite you to come visit this winter ~ we keep our regular shop hours and winter is a great time of year for a stay at our Quilt Inn.
It's time to book your 2013 retreat dates for the
Quilt Inn
. We are now taking your year-round reservations and sending out payment and arrival information to group leaders. Whether you are coming with a group of 5 or 9, our rates are quite affordable when split among those in your group.
We are pleased to let you know that the telephone at the Quilt Inn now has unlimited long distance service for outgoing calls, so you won't need to rely on your cell phone. With a new year come some policy changes that you may read and review

here

. We look forward to helping you plan your stay with us.
"Galaxy" is our theme for this

mini-quilt camp

at the Quilt Inn February 15 ~ 17, 2013. Limited space is still available. Carol is the instructor, while Dan prepares our lunches featuring homemade soups, home baked goodies and if we're lucky, home made ice cream again this year. Light snacks are on hand to keep our energy up as we stitch the day away. Martha is always ready to welcome quilt campers across the driveway at the quilt shop. Limited spaces are available. Call us soon to sign up. Overnight lodging is available at the Quilt Inn.
Join us for this 4 part

class

where you will create a quilt in your choice of three sizes ~~ 47 inches square, 63" x 79", or 93" x 111" ~~ with many block layout options at the end. This quilt is fun! We've decided to even keep the name a mystery this year. Scrappy fabrics or a planned fabric palette, the choice is yours. We'll meet once a month, February through May, and your pattern cost is included. Space is limited, so you'll want to

contact us

soon to reserve your place and begin selecting your fabrics.


FALL QUILT CAMP ~ ALMOST TIME TO BOOK
We are finalizing the details for the two October

Quilt Camp

weekends. Our instructor is

Joan Ford

. We'll have all the information and be ready to start booking in February. Watch your inbox for further information.
ABOUT US ~ AL & BETSEY, VANESSA, MARTHA
We truly function as a team and we thought it would be fun to introduce you to the folks that help Carol and Dan with the Quilt Inn Retreat Center, on our website, and at Threads Galore Quilt Shop.
Al and Betsey Girard are our professional cleaning duo for the Quilt Inn. Their philosophy is that the Inn should reflect the level of care they would want to have upon their arrival for a stay there. Al and Betsey guarantee that the Inn will glow and feel clean from the moment a guest enters the door. Al specializes in floor care, with special treatment given to all of our hardwood floors. Betsey works her magic on the rest of the Inn. Our kitchen drawers and cupboards have never been so organized! We count on them to inventory our supplies for the Inn. We so appreciate their attention to detail and willingness to adapt their lives to our reservation schedule.

It's no surprise that the Girards take such pride in the Quilt Inn, for they never miss our monthly Open Studio Days. Al is the consummate chauffeur and valet, cheerily bringing in all of Betsey's quilting gear while Betsey carefully brings in her lovingly baked goodies for the group's enjoyment. Al then helps whomever else has arrived by trekking in their machines and quilting bags before heading off for his day. Betsey has been quilting since 2004, finished 10 or 12 quilts that first year and as the saying goes, the rest is history. Betsey designs her own quilts with a contemporary style and loves to try new techniques. Her favorite colors are rich tones of black, purple, and green.
Having celebrated 22 years of marriage, Al and Betsey love the shared time their respective retirements from local telephone companies offer them. They work on quilts together with Al helping coordinate colors and offering options for quilt block layouts before Betsey stitches the quilt top together. Betsey's sewing room recently added a Gammill Long Arm Machine and she's loving all aspects of quilting. Al and Betsey joke that they are now covering the walls of their home with quilts to add warmth and coziness. Sharing time with their 3 grandchildren is a highlight for Al and Betsey and the kids all have wonderful quilts.
Al's lifelong love for being on the water led him to serve our country in the Navy and he continues to love boating and being on the lake. Working on cars, shoveling snow, and mowing keep Al busy. Both Al and Betsey greatly enjoy the company of their Australian Shepherd and young Chocolate Lab. Betsey loves to bake and treats us and her family to the Raisin Bread she always remembers her Dad baking for the holidays. Al and Betsey's exercise of choice is walking, stepping right out their door and going in whatever direction calls to them on any given day.
We're so glad that Al and Betsey chose to retire here two years ago, that they share our love of quilting, and are such an important part of what we do and offer at the Quilt Inn Retreat Center.
Vanessa Freeman, oldest daughter of Dan and Carol, is a busy Mom, Navy wife, and shares our website duties with Carol. Our age of technology allows her to work for us from wherever they are living, depending on the base to which her husband, Lucas, is currently assigned. Vanessa works with various fabric manufacturers, downloading images of each fabric Carol has ordered, adding all new fabrics with their description and pricing information to our online store. Each fabric manufacturer's website operates differently. Vanessa also created the website for the

Autumn Splendor Shop Hop

which involved learning the program capabilities, preparing our information, and placing it on the website. Vanessa thought this was fun and loved all the clicking involved in making sure everything went where she hoped it would go and all the links worked correctly.
Vanessa recalls an early sewing experience in middle school Home Ec class where the project was a machine stitched pillow with a pieced front and a solid back. Working with pink and grey striped fabric, Vanessa stitched her pillow and proudly turned it right-side out, only to find out that the pillow front was wrong-side out. These days, she focuses on small projects and loves stitching up drawstring bags. A medium sized bag is just right for holding her knitting while outdoors with the kids. She can put the yarn in the bag, hang it from her wrist, and knit as she supervises playtime. Vanessa admits that she has lots of projects in progress and needs to make more bags.
Lucas and Vanessa greatly enjoy life with 5 year old Kailey and nearly 3 year old Jakob. Food allergies in Jakob inspired Vanessa to get creative in the kitchen. Their family strives to eat healthy, avoiding food coloring and preservatives, and making most things from scratch at home. Vanessa loves to bake all the bread products for her family and mini muffins are always kept in the freezer, ready for the kids' snacks for the week.
YouTube videos during Kailey's infancy nap times are how Vanessa taught herself to knit. Trying out new patterns, new yarns and learning new techniques inspire Vanessa to have lots of projects on her needles. She knits hats, sweaters, socks, scarves, and mittens. Hand knit gifts had Vanessa pretty busy in November and December.
Vanessa is an avid reader of anything and everything from free Kindle books to Stephen King to Anna Karenina. She loves ending her busy days curled up with a good book. Vanessa's morning exercise routine alternates Turbo Fire kickboxing/strength training with Step Aerobics. Kailey and Jakob are quite entertained during exercise time and Kailey tells her Mom to "do your best and forget the rest" which she learned from the P90X DVD.
Getting organized is Vanessa's goal for 2013. She claims she is a bit of a pack rat and says she gets that from her Dad. Realizing that she holds onto anything/everything, she's challenging herself to create a system of storing it all. We wish Vanessa all the best with the organizing and are so glad she can help us out with our website and online store from afar.
Martha Bicknell is our long-time "gal Friday" at Threads Galore. Waiting on customers and keeping the store organized and inviting are Martha's priorities. Stitching up shop samples ~~ bags, table runners, and quilts ~~ and putting together Fat Quarter bundles allow her to work with the fabrics she loves or challenge herself to step out of her comfort zone. Martha and Carol sit down together to rough out each monthly newsletter, Martha writes it up and Carol enhances it with photos and graphic design. Press releases, website blurbs, and class descriptions are also written by Martha. Brainstorming often happens around the cutting counter before our first customer of the day ~~ how to grow each area of our business, class and workshop planning, new ideas for the shop. Then we each go about our work for the day, let the ideas gel, and come together again to see what we've come up with. Our best ideas sometimes come to Martha and Carol in the middle of the night!
Quilting and knitting are integral parts of Martha's personal life. Gathering with quilting friends at Open Studio Days at the Quilt Inn are a monthly delight. Leading her Church's Prayer Shawl group and taking part in the Knitting Group at the Rangeley Library offer regular opportunities to knit with friends. Knitting for Wool-Aid and Nest Maine are the focus of her charity knitting for 2013. Nearly year-old grandson, Henry, is well dressed in handsome sweaters, lovingly hand knit by his Gram.
Martha loves to read, frequents our local library, and enjoys a mix of fiction and non-fiction. No electronic reader for this gal! Martha and John are active in their Church and in the community. They celebrated their 40th wedding anniversary at Thanksgiving.
Yoga and walking are Martha's long-term exercise activities. She's a huge fan of Yak Trax for secure footing in the winter months around Rangeley. Walking the

Mingo Trail and Bird Walk

in all four seasons with her husband is truly special as John planned this hiking trail for the Mingo Springs Golf Course.
Having raised our daughters together and lived in the same neighborhood with the Bicknell's for so many years, we're glad to have Martha's long-term dedication to Threads Galore Quilt Shop.
We are ready for 2013 and look forward to seeing you soon!
Happy New Year from us all,