Skip Navigation
Website Accessibility
Dear Quilting Friends,

The birds are chirping, flowers are sprouting and the ice is out of the lake ~ it must be May in Rangeley! Dan has been "puttering" outside ~ raking, tilling the garden ~ he even planted some peas! It is so nice to have the longer hours of daylight.

MAY HOURS & CLOSED TIMES
Our May hours are Tuesday thru Saturday, 10 AM ~ 4PM. Closed on Sundays & Mondays.

Please note the following CLOSED dates:
Saturday, June 11th ~ A Family Wedding ~ Katelyn & Mike
Saturday, June 25th ~ A Celebration of Life for a dear old friend.

SHOP HOP
We had a great time chatting with new and returning Shop Hoppers during the State of Maine April Shop Hop. Many thanks to the 400(+ -) hoppers who visited us here at Threads Galore, took the time peruse our shop and signed up for our newsletter.

ANNIVERSARY
This month also marks Threads Galore Quilt Shop's 20th Anniversary! We started out with a long arm quilting machine, a few bolts of fabric and some neutral threads ~ who knew we'd grow into a full fledged quilt shop offering a Retreat Center and Quilt Camps, that Dan would become a pattern designer and Studio 180 Certified Instructor or that our quilts would win prizes across the country? We'll celebrate the occasion with a one-day sale on Saturday, May 28th. More info later this month….

SPRING QUILT CAMP
We recently held our Spring Quilt Camp 2016 at the Rangeley Inn with Instructors Michelle Hiatt and Dan Perkins. Campers attended from as far away as California to as close as Rangeley! A good time was held by all. View our slide show here. And due to a bit of coercing from our Spring Quilt Campers there WILL be a Spring Quilt Camp 2017. Mark your calendar for May 3rd thru May 7th to join Michelle and Dan for yet another fun-filled weekend becoming familiar with the methods and techniques of precise piecing the Studio 180 way! Info and registration will be available in a few weeks ~ we will let you know!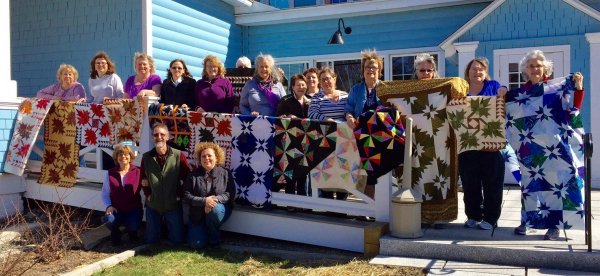 FALL QUILT CAMPS
Fall Quilt Camp with Michelle Hiatt is SOLD OUT! We do have a waiting list if you are interested.

Fall Quilt Camp with Jackie Kunkel still has openings! Have you always wanted to learn how to do curved piecing? Jackie, a Judy Niemeyer Certified Instructor, is an expert and can show you how to quickly and accurately piece curved seams for the quilt "Proud Mary" from her book, "Splash of Color." Or you may choose her pattern "Paradise Island" for a more traditional looking quilt. Already have a Judy Niemeyer UFO in the works? Bring it along and finish it up during the Quilt Camp weekend. Whichever option you choose, Jackie will assist you with your project.

OPEN STUDIO
Our Summer Open Studio dates are:
Monday, June 13
Monday, July 11
Monday, August 8 (Summer Potluck Lunch)
Monday, September 12

$20.00, pre-registration please.


AN INTERESTING READ


We found this article by Sam Hunter on independent retailers to be an interesting read no matter what business you are in.




MAINE QUILTS
We will be vending at Maine Quilts again this year. Dates are July 29 ~ 31 at the Augusta Civic Center in Augusta Maine. Stop by Booth #5 for Studio 180 Demos and Show Specials.

FAMILY NEWS
Our Virginia family ~ daughter Vanessa, son-in-law Lucas, and grands Kailey and Jakob have found a house in Readfield Maine!! Woohoo! Their offer was accepted, inspections are being scheduled and movers have been given a date. They will be heading back home to Maine in mid-June after the Virginia school year is complete. Yay!! We can't wait to have them nearby!

Thank you for reading our newsletter. We hope to see you soon!

Carol & Dan
Threads Galore Quilt Shop
Rangeley, Maine
(207)864-5752