Dear Quilting Friends,


We are sending our November news out a bit early in order to give you a heads up regarding our winter shop hours.


WINTER HOURS


OR BY APPOINTMENT
(closed Thanksgiving day)


Give us a call, if we are around we will open for you.

207.864.5752


FALL QUILT CAMP


We just finished up our 18th and final Fall Quilt Camp with Instructor Michelle Hiatt at The Rangeley Inn and Tavern in downtown Rangeley.

Thank you to the 25 campers that joined us this year and to all of the campers that have taken advantage of our Fall Quilt Camps throughout the

past

18 years.

While it is time for us to end our part of camp you will be most pleased to know that Michelle plans to carry on as the Fall Quilt Camp organizer and instructor!

So…the tradition continues!

For info on future Quilt Camps and more of Michelle's retreats, please click here.


MACHINE QUILTING


This is not definite yet but I'm trying to see if there is any interest ~ I am pondering longarm quilting for others again.

At this time I would only be interested in the basics ~ all over edge to edge quilting, all freehand. (examples below) If this is something you might be interested in, let me know.

Again, not a definite yet ~ just trying to get a feel for the need.


Left ~ All over leafy feathers with swirls, Right ~ All over Fancy Feathers

Left ~ Loops and Stars, Right ~ Big Circle Thingy's (technical term)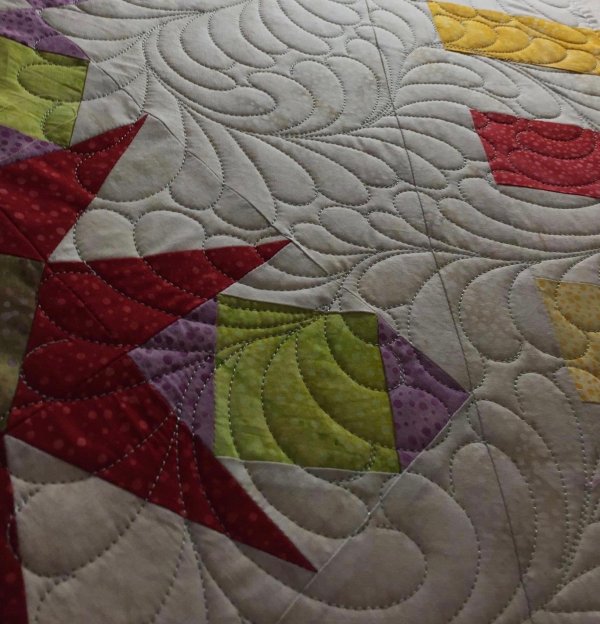 My favorite ~ All Over Basic Feathers (looks great with wool batting)


OPEN STUDIO


Time to get started on those Christmas gifts!


QUILT INN RANGELEY RETREAT CENTER


We encourage you to finalize you plans with your quilting group and reserve your Quilt Inn dates soon.

The most popular dates fill up quickly.

Check out our calendar for available dates and give us a call with your reservation requests soon!

DAN'S RAMBLINGS

He's STILL working on that scrap quilt!


THANKSGIVING


It looks like we will be celebrating Thanksgiving here in Rangeley this year where we will continue with my dad's "Pie First" tradition.

In case you missed the "Pie First" story in our December 2013 newsletter, here it is again.


We all love the "Pie First" tradition, carried on in memory of Carol's beloved Dad, Stan Coolidge. Having a hearty sweet tooth, Stan began a family tradition years ago of enjoying coffee and a slice of all the pies midmorning, while the holiday meal was cooking. Soon the whole family was enjoying mid-morning plates of pie and coffee or milk. You may think this means that they didn't have pie for dessert ~ well they did, and still do!