Threads Galore Quilting Services
September 2019 Newsletter
Dear Quilting Friends,


Happy Labor Day!

Can you believe how fast the summer has gone?

We closed on our Rangeley house on June 7th and moved here to the pond the same day.

It has been an adjustment, that is for sure, going from a 2500 square foot house to a less than 900 square foot house.

Lena the Longarm is in the loft and is up and running.

I haven't used her too much as it has been really hot up there.

Central air is in the works along with other construction ~ our contractor is planning to spend most of the month of October here.

I always said I would not live in another house "under construction" but here we go again!



QUILT INN RANGELEY


We are down to our last few bookings at Quilt Inn Rangeley.

Bittersweet.

We have had so many nice people enjoying our retreat house over the years and we ourselves have gotten so much inspiration from them all.

When we decided to close the shop before our house sold, we planned to continue renting out the Quilt Inn but once our house did sell it became too inconvenient for us (we are 2 hours away) to be here when they are there.

So, Quilt Inn is on the market ~ see the listing here.

It would make a great in town family home!


LONGARM QUILTING


I have received several inquiries regarding longarm quilting for others.

I think I am about ready!

At this time I am only doing computerized edge-to-edge quilting.

I also am only taking in a few quilts at a time ~ remember, I am suppose to be retired!

If you follow us on Facebook you probably have noticed that our name has changed from Threads Galore Quilt Shop to Threads Galore Quilting Services.

There will also be changes happening on our webpage at some point in the next few weeks.
I was originally going to change our name from Threads Galore to Memory Lane Quiltworks ~ some of you know this.

BUT, basically I'm too lazy because if I

change it to Threads Galore Quilting Services

1. I get to keep my same license plate ~ TGQS.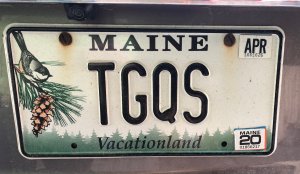 2. We get to keep our same email addresses (carol@theadsgalore, dan@threadsgalore)

3. We can also use our same URL address www.threadsgalore.com So there you go ~ we are now known as THREADS GALORE QUILTING SERVICES.


PRICING


I charge $35.00 per hour.

Period.

I do not charge extra for thread.

At this time, I really haven't done enough computerized quilting to get accurate pricing.

Most longarmers charge by the square inch.

I am finding that most patterns run in the .03 to .06 per square inch price range, depending on the density of the design.

To get a rough estimate ~ width X length X .06 ~ that would be on the high end.

70 X 90 = 6300 X .06 = $378.00.


Here are some things to remember to keep your price down:
Make sure your quilt is square.

If I have to adjust as I roll to keep it square it takes more time.
Your backing and batting also need to be square and should be 8-10 inches larger than your quilt top.

The edge to edge patterns begin and end off the edge of the quilt plus the clamp needs to be far enough away that the machine doesn't get caught on it.
Again, if I have to do any of the above it takes more time.


We love Quilter's Dream Batting ~ we have some in stock and are happy to order whatever you would like for your quilt.

My two favorites are Dream Wool and Dream Puff but have quilted with several of the others also always with good results.
I am hoping that you will assist me in obtaining a portfolio of Edge-to-Edge patterns.

I have several now but am open to purchasing patterns that you think will compliment your quilt.

I have accounts with Urban Elementz and My Creative Stitches.

You can view the E2E patterns (LOTS) and let me know which one(s) you are interested in.

I prefer the patterns that interlock so it is hard to "see" the row of quilting.


All this information will hopefully be up on our website within the next few weeks but in the meantime if we can assist you let us know!

We pride ourselves on our quality workmanship and treat your quilt the same as we would treat ours.


DAN'S RAMBLINGS


Enjoy these cooler temperatures ~ good sleeping and quilting weather!

Carol & Dan

Threads Galore Quilting Services
Memory Lane
Green Pond
Oxford, ME
carol@threadsgalore.com

dan@threadsgalore.com