Dear Quilting Friends,
Happy Spring! Happy April! It's State of Maine Quilt Shop Hop time!! We are off to a good start and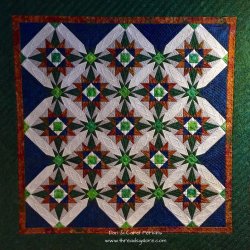 enjoying visiting with new and returning hoppers. We love the 885 Dot Style batik featured fabrics from Hoffman California Fabrics and love how they look in our Challenge Quilt. "Chasing Points" is our own pattern ~ designed and pieced by Dan, quilted by me (Carol). Grab your passports and "hop" on up to the Western Mountains! And plan to have lunch or dinner at The Red Onion on Main St ~ show them your passport and receive a free 5" charm square. (Thank you Monika!!!)
Our April hours are Monday thru Saturday 10AM to 5PM and Sunday 12:00 noon to 4:00PM
OUR MARCH BREAK
Our March break went by way too quickly. Our plans were altered a bit. Dan traveled to Raleigh NC to attend a Studio 180 Retreat ~ you can read his ramblings for more on his week ~ without me. I was originally going along for the ride as far as our daughter's in Virginia but our Rangeley daughter ended up with a broken ankle (her right) so I opted to stay home to help out. I spent most of the month working on the longarm on a project that I can't show you yet but am very pleased with how it came out. Here is a sneak peak of the back.


Another reason I didn't go was our VA family had plans to be back in Maine the following week anyways. Our son-in-law, Lieutenant Commander Lucas Freeman, is retiring from the Navy after 20 years of service ~ thank you Lucas! He is now on terminal leave until his "official" retirement at the end of May. So, they came home to house hunt. No luck yet but they still have a bit of time as they are staying in VA until the school year is over. They are looking in the Winthrop ME area so if any of you know of any new listings coming up let me know!
DRAWING THE LINE
Joan Ford of Hummingbird Highway recently wrote a great article on drawing a line on fabric to make half-square triangles or stitch-and-flip units. If you are having accuracy difficulties constructing these units take a look at Joan's article HERE.
FALL QUILT CAMPS
Fall Quilt Camp with Jackie Kunkel features meals, lodging and great instruction from Jackie ~ your choice of two original designs, "Proud Mary" or "Paradise Island". We have "Paradise Island" hanging in the shop ~ stop by for a look-see. Class space is limited ~ don't delay!
Fall Quilt Camp with Michelle Renee Hiatt has only a handful of openings left. Sign up soon!
QUILT INN RANGELEY
We are starting our busy season at our Quilt Inn Rangeley and are looking forward to visiting with our returning and new retreat groups. We love to see the large variety of projects our Inn-ers are working on while enjoying our spacious and comfortable retreat center. We would love to help you plan your quilting retreat with us ~ give us a call at (207)864-5752.
OPEN STUDIO
Open Studio Days are wonderful day-long retreats where quilters work on their own projects. Bring your own lunch and stitch the day away!! Stop by or contact us for more details and to sign up. Summer dates are:
Monday, June 13
Monday, July 11
Monday, Aug 8 ~ Summer Potluck
Monday, Sept 12
ON DEMAND
On demand Studio 180 classes are available for your group of 5 or more quilters. Gather your friends, pick a pattern or technique you would like instruction on and we will be happy to accommodate you! Contact dan@threadsgalore.com for more info.
NEW FABRICS ~
Folio Basics from Henry Glass Fabrics ~ The leaf sprig design and wide range of rich colors make this a wonderful blender to add to your quilt.

Play Your Song from Wilmington Prints ~ A handful of bolts with musical motifs in black, gray, white, ivory and golden tan.


Flowers of the Sun ~ Classic sunflowers in a small print along with several coordinating tonals.

Enjoy the longer days and brighter sun ~ see you soon!

Carol & Dan
Threads Galore Quilt Shop
Rangeley, ME
(207)864-5752